Traveling should be a unique and one of a kind experience. Whether you seek the accommodations of a haunted 12th century castle like Dragsholm, a paradise hotel with Turkish baths and intimate suites like the Gran Hotel Son Julia, a frozen palace with animal skins like Quebec's Ice Hotel, or an ornate and intricately designed space like Propeller Island Hotel in Berlin-these vacation destinations all share an amazing list of amenities, stunning grounds, and unbelievable scenery......

The Castle of Taunton
Taunton Castle
is the home of England's oldest fortress. In the Anglo Saxon Chronicles, it was said that a wooden castle was built here in 710 by the King of Wessex. The castle later was burned to the ground and later rebuilt. On the walls of the hotel, you can see the painted arms of the Bishops of Winchester who were granted the property by Queen Frithogytha of the West Saxons.
During the 18th century, part of the fortress was turned into a hotel. During the spring, the outer structure is adorned with wisteria, framing it like a country garden.
The decor is medieval in motif with heavy velvet window panels and antique furnishings. The guest rooms are enchanting with bouquets of local flora and bottles of sherry. It's a perfect destination for historians, honeymooners, and family gatherings.
Read the entire article about Castle and Fortification Hotels
@ The Ancient Digger
Blue Palace
Blue Palace
is situated just 3 km away from the village of Elounda and within a few hundred meters of the fishing village of Plaka. The hotel is surrounded by the blue waters of the Mediterranean Sea and sits opposite the isle of Spinalonga.
"Spinalonga's story dates back to the Venetians and Turks, conquerors of Crete, and is nowadays a unique historical attraction protected by the Greek Society of Byzantine Antiquities."
Propeller Island City Lodge
The
Propeller Island City Lodge
is located in Berlin, Germany and is packed full of amazingly designed architectural rooms. There are 30 rooms that are all instinctively unique. Depending on your idiosyncratic and adventurous taste, you will choose your ability to have a one of kind stay.
T-H-E vintage City Lodge domicile - it all began with this room. Our guests slumber in the midst of a gigantic, colourful wooden fortress, between dwellings harbouring both wardrobe and desk. The meadow round the knight's helmet also has a miniature golf course in it! The colourful room is part of the artist's private area and it is available for foto/video sessions.
A house made of green stained glass stands in this room, and next to it a romantic writer's arbour with a century-old skylight. A pendulous stone at the head of the bed holds it in position. A wondrous, green light! Fantastic walls! Authentically antique!
Cliveden-17th Century
The Duke of Buckingham trusted minister of King Charles II needed a place to carry on an affair with the Countess of Shrewsbury. In Britain's most famous duels, Buckingham killed the countesses husband with a swift blow to the head. Buckingham was dismissed years later by the king.
Over the years and with the passing of hands, a
dovecote
, water tower, and the stables were added. In Britain,
Cliveden is associated with the Astor family
who purchased the property in 1893 and added gardens and the art found throughout the house.
When Waldorf and his bride Lady Nancy Astor received Cliveden as a wedding present they spared nothing to provide the most lavish of parties. Guests included Henry James, Winston Churchill, Edward Prince of Wales, and many more accomplished individuals.
Presently, this luxurious hotel is a place of solitude and breathtaking scenery. The inner public rooms are adorned with carved wooden columns, molded ceilings elegantly decorated by window panels, such as the Orkney tapestries.
There are four staff members for every room who assist you in unpacking and drawing baths, amongst many other duties.
As for the cuisine, there's one word,"exceptional". Cliveden's restaurants are considered the finest in England. To add to this luxurious adventure, Cliveden provides two boats which are available to cruise the Thames. However, if romance is what you crave the Suzy Ann goes out for a pre-dinner champagne cruise during the summer evenings.
Gamirasu Cave Hotel
Gamirasu Troglodyte Hotel
is located in the heart of Cappadocia, Turkey near Urgup. The hotel boasts 18 rooms that have been completely restored and reopened in 1999. The hotel is situated in a retreat that has been there for over thousands of years. This hotel is a perfect for wedding destinations and honeymooners.
Dragsholm Hotel in Denmark
Machu Picchu Sanctuary
The
Machu Picchu Sanctuary Lodge
is an ancient hotel which boasts some of the most spectacular views of this historical Inca settlement in Cusco, Peru. The lodge is the only hotel located within the sanctuary of the Manchu Picchu Ruins. It has 29 rooms and 2 suites which have the most spectacular views of this sacred place.
Comlongon Castle and Hotel
Comlongon
is a 14th century medieval scottish castle and luxurious baronial hotel. It's comprised of many "interconnecting chambers to an extent not seen in any contemporary Scottish castle." The narrow kitchen connects to a guardroom which in composed of a cell and a trapdoor that leads to a foreboding darkened dungeon.
Gran Hotel Son Julia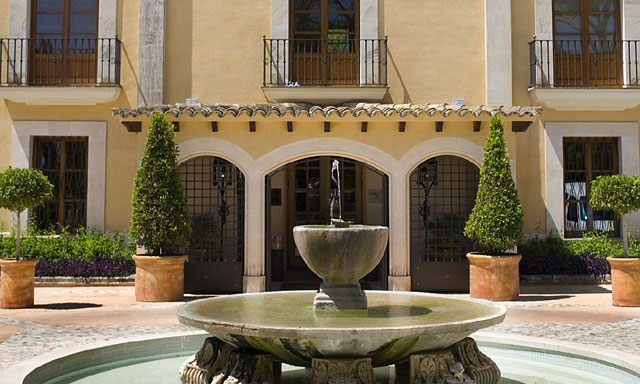 The
Gran Hotel Son Julio
is a 15th century mansion located in the idyllic countryside of Mallorca. This beautifully constructed countryside hotel has 25 lovely guest rooms and suites, 2 Turkish baths, 3 pools, a gym, 2 restaurants, 2 tennis courts, and an 18 hole golf course just minutes away.
Ice Hotel in Quebec, Canada
The
Ice Hotel is located in Quebec Canada
. This featured theme suite called "Quebec 400″ features animal skins for blankets. The ice hotel is built differently every year but, something does remain the same. Each year, the hotel is built with "500 tons of ice and 15,000 tons of snow" carved into one of the most fascinating hotels on earth. They keep it pretty cozy at 23° to 28° Fahrenheit. However, when you're not freezing your behind off, you can enjoy the many amenities featuring a chapel, a movie theater, an outdoor hot tub, and a bar.
Gran Hotel Son Julia Picture Source
Comlongon Castle photo (
Image Source
,
Image Source